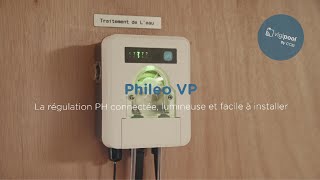 Phileo VP
PF10J051
Automatic and connected, the Phileo VP is a compact pH controller that will simplify your life all season long! Ultra-simplified installation, connected device, luminous dosing pump, choose a unique and innovative device for your water treatment!
Select a reference
| | Reference | Max. flow | Max. pool volume | Version |
| --- | --- | --- | --- | --- |
| | PF10J051 | 1.5 l/h | 150 m³ | |
| | PF10J050 | 1.5 l/h | 150 m³ | Zelia POD supplied |
Features
With Phileo VP, choose peace of mind! At a glance, you'll be able to see the pH level in your pool, thanks to a dosing pump that lights up according to measurement and/or alerts. You'll save time every day, thanks to instant visualization of water pH at a glance in the technical room!
The Phileo VP's dosing pump provides a quick visual check that the device is operating correctly, by lighting up according to the pH status: in green, all is well, in orange, the measurement is close to that required, and in red, the measurement is too far away. Its LEDs also provide easy-to-identify visual cues for diagnosis!
Phileo VP settings can be made directly on the device or via smartphone! You'll be up and running in just a few minutes, away from the technical room, thanks to an intuitive interface that lets you quickly get to grips with the device. The application also provides a more precise display on the smartphone: pH measurement, tank volume, injection counter, etc.
Don't miss a thing of your pH control! Supplied with a 230V plug for connection to the mains, forget about having to control your filtration pump without knowing where to connect it! And if you want to know the state of filtration, the device is connected to a flow sensor, providing more reliable information than a simple filter control. Simplified installation and more accurate information on water flow in the pipe!
Automatic pH+ and pH- control

Simplified installation Intuitive application-based parameterization

Quick visualization of device status

Visual alerts